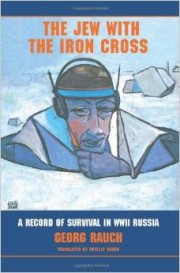 Re-titled Self-Published Memoir about Young Jewish Man Forced to Serve Hitler to Be Released February 24
BLOOMINGTON, IN / February 12, 2015 - Author Solutions, LLC, a Penguin Random House company and the world's leading provider of supported self-publishing services, announced Thursday that Farrar, Straus and Giroux/Macmillan has acquired the rights to "The Jew with the Iron Cross: A Record of Survival in WWII Russia," self-published through iUniverse by the late Georg Rauch in June 2006. The re-titled "Unlikely Warrior: A Jew in Hitler's Army," will be released by FSG Macmillan on February 24.
Rauch, who was one-quarter Jewish by ancestry, was drafted to join the Nazis on the Russian Front as a foot soldier and telegraphist. The book is a memoir of Rauch's struggle to survive as a Jewish soldier in Hitler's army, as well as a recounting of his time as a Russian prisoner. The text is based on more than 80 letters he wrote to his mother from the Russian trenches.
Though fluent in English, Rauch wrote the manuscript in his mother tongue, German. His wife, Phyllis, translated the work into English in preparation for its 2006 release through iUniverse—mere months before Georg passed away. Phyllis had to overcome differences in sentence structure between the languages, all the while taking special care to stay true to her husband's story.
"Early on, in the process of translating, I realized I also would have to discover or create Georg's literary voice," Phyllis recounted. "Trained as a librarian, I rifled through my memory, recalling styles and books from Fitzgerald to James and Faulkner. Hemingway isn't my favorite author, but I found myself leaning in his direction, convinced that simplicity and clarity would make what had now become 'our book' more powerful."
"Unlikely Warrior," will include vintage photos of Georg in military training, as well as of his time in Russia. In addition, the book will be richly illustrated with drawings created by Georg—who went on to become an accomplished artist after escaping Hitler. In addition to marketing it to adult readers, Phyllis said Macmillan plans to also target young adults as well.
"I'm hoping our readers, young and older, will be excited and inspired by a book that relates how a real teen survived multiple near-deaths, thanks to his practical accomplishments and sharp wit, good health and love of life. I think women will also relate to the strong relationship between Georg and his mother," Phyllis commented.
To learn more about Author Solutions' supported self-publishing services, please visit http://www.authorsolutions.com. For the latest Author Solutions news, follow us on Twitter @authorsolutions on Twitter and "Like" us at facebook.com/AuthorSolutions and visit http://www.authorsolutions.com.
###
About Author Solutions, LLC:
Author Solutions, LLC, is a Penguin Random House company and the world leader in providing supported self-publishing services. Author Solutions' leading self-publishing imprints—AuthorHouse, iUniverse, Palibrio, Trafford Publishing and Xlibris—have helped nearly 180,000 authors self-publish, promote and bring to market more than 225,000 new titles. Through strategic alliances with leading trade publishers, Author Solutions is making it possible to develop new literary talent efficiently and provide authors with a platform for bringing their books to market. Headquartered in Bloomington, Indiana, Author Solutions' global reach includes imprints developed specifically for authors in Australia, New Zealand, the United Kingdom, Singapore and India. For more information, please visit authorsolutions.com. Follow @authorsolutions on Twitter and "Like" us at facebook.com/AuthorSolutions for the latest self-publishing news.
Share: